Corporate Social Responsibility
Corporate Social Responsibility (CSR) is high on the agenda of Long Data. We support the protection of the environment, care for and make contribution to the communities in which we operate.
Community Services

Long Data has a long history of giving back to the community and supporting people in need. A culture of volunteerism and civic engagement is generated in our staff. Through participating in social service activities after working hours, our staff members contribute to the betterment of the community and the welfare of the less fortunate and needy.
Care the Visually Impaired
Apart of financial support, we have donated I.T. equipment and provide I.T. support service to help the Blind Association for further development since 2009.
VTC Design Education Fund Donation  (2015 – 2018)
The education fund was established by a group of entrepreneurs and employers who cultivated a new generation of talents each year.
Sponsor of  Robocon 2019 Hong Kong Contest

To arouse the interest in and awareness of engineering and IT among the public, in particular university and secondary school students and provide a valuable chance for local students to exchange engineering experiences with students from other countries/ regions through the international contest.
Environment Protection

Support sustainable development of the environment and Develop an environmental plan to address the latest local/global environmental trends.
WWF – Earth Hour (2016 – 2020)
Long Data once again joins forces with WWF on its Earth Hour 2019 campaign. Participate in the world's largest single campaign for the planet which starts by turning off your lights for an hour at 8:30 pm on March 28 in a collective display of commitment to a better future for the planet. Think what can be achieved when we all come together for a common cause. Last year, hundreds of millions of people across 135 countries participated, and we hope you will join us this year.
Recognised as Hong Kong Green Organisation (2016 – 2021)
Long Data is recognised as Hong Kong Green Organisation, The certification aims to benchmark green organisations with substantial achievement in green management, to encourage participants to adopt environmental practices in different aspects and to recognise us efforts and commitments to the environment.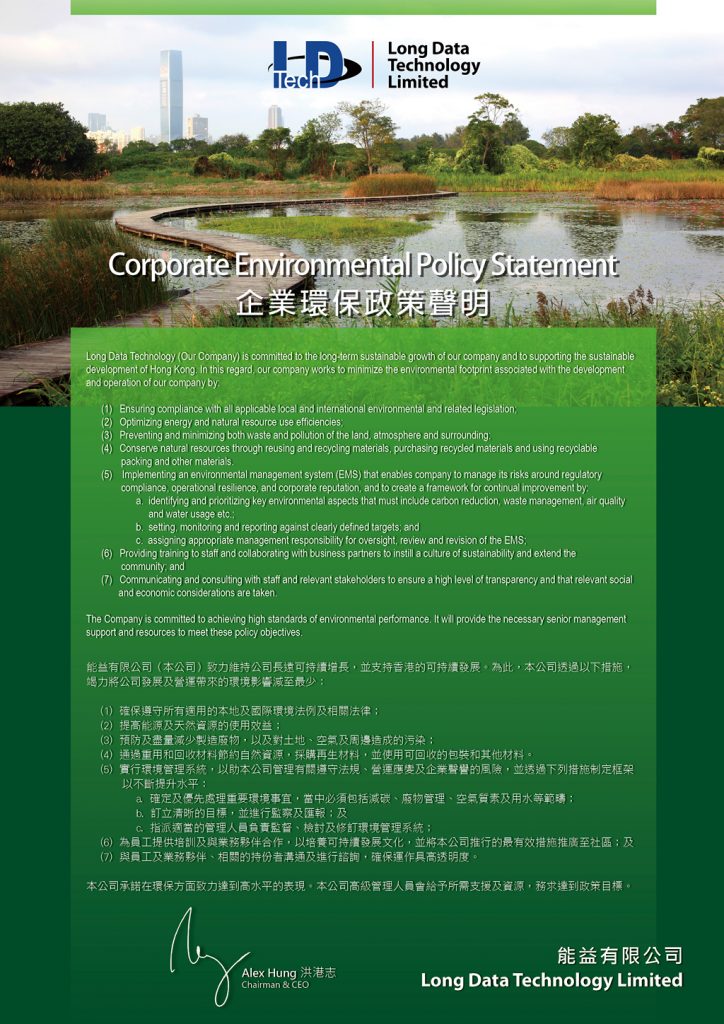 Health of Employees
Smoke-Free Company (2017 – 2020)
We have implement to smokefree workplace to protect the health of our employees, which is awarded to be Hong Kong Corporate Smoke-Free Logo and Certicate by the Lok Sin Tong Benevolent Society, Kowloon.